4 BHK Flats in Zirakpur | Chandigarh | Mohali – Relish your dream house with Maple Apartments! New Generation Real Estate brings you Maple Apartments that will grab your attention with appealing intrigue interior designs and spacious  3/4 BHK flats in Zirakpur. You get to enjoy luxurious amenities all under the most coveted possession of 4 BHK apartments dwelled in the beautiful location of Gazipur (Zirakpur). The proposed project brings you a work-class experience at a most genuine budget of your own dream house.
Maple Apartment's 4 BHK flats in Zirakpur will add to the priceless possession ameliorating the social statement. The ready to move flats in Zirakpur location has been designed keeping in mind the evergreen tailor made house features and other facilities, especially for 4BHK apartments. You get to enjoy a range of amenities, panoramic view and proximity to city-centered locations like Chandigarh IT Park, International Airport, and Alchemist Hospital etc. All are present in exotic grandeur Zirakpur at most affordable housing prices with Maple Apartments.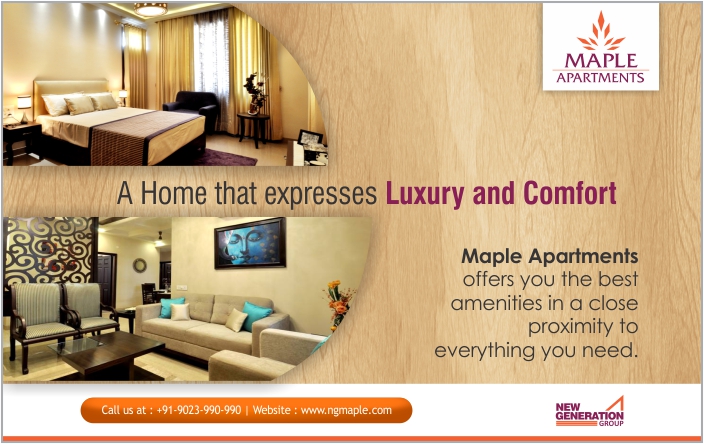 Talk to our representative and get in-depth information. You can dial +91 9023990990 or simply leave a message for us to contact you back with the best response. We assure you priceless value packed in great deals.
Why Invest in Maple Apartment's

4 BHK Flats/ Apartments in Mohali

, Zirakpur?
The location of Zirakpur entices loads of benefits for those who want to make wise investments with their budgets. The apartments/ flats in Zirakpur (Chandigarh) of Maple Apartments are as per your family needs and 4 BHK flats bring better spacing and a high-class interior that appeals your style. Zirakpur is located in proximity to city dwellings of Chandigarh, Panchkula and Mohali. The major locations like International Airport, proposed Golf course, Chandigarh IT Park etc. All under the radius of 20 minutes!
The Chandigarh-Shimla Highway makes everything possible for you to enjoy great deals when it comes to luxury apartments in Zirakpur, Chandigarh, and Mohali. If you are thinking why to invest in Flats in Zirakpur then take a look at the following:
Zirakpur has a rising value of residential homes. The rates are appreciating at good value making investment fruitful.
It connects the Tricity with different locations like Himachal Pradesh, Delhi, Punjab etc.
Good development is being witnessed with impressive corporate growth.
The appreciating home prices and coming homes here will be costly. This will make a good asset in long term
Zirakpur boosts great resources like transportation, education, entertainment, work etc nearby making an ideal home location for families with elderly couples to couples with children.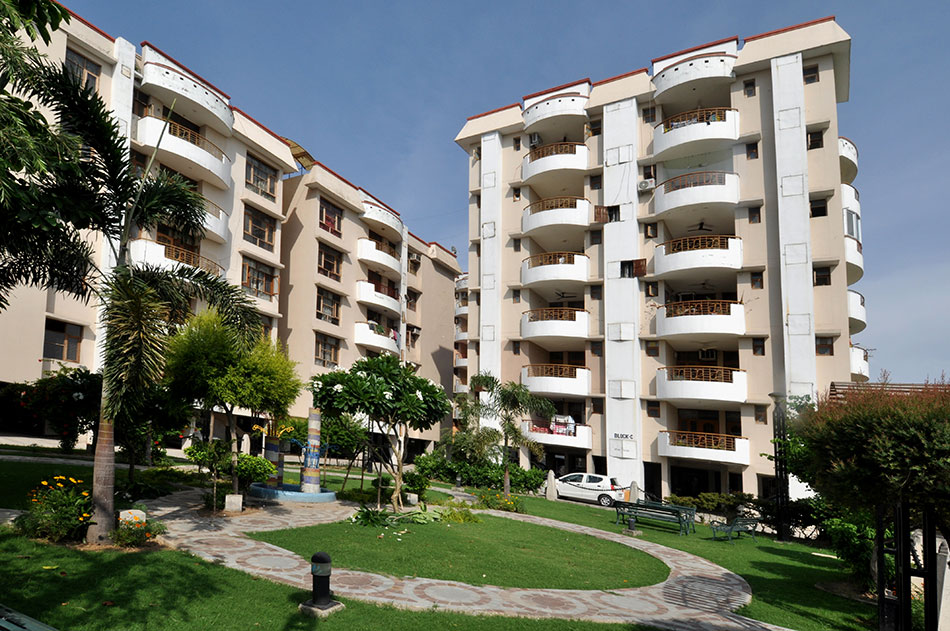 Maple Apartments Architectural Layout Plan Of 4 BHK Flat/Apartments in Zirakpur
Our focus is on your needs of spacious and well-designed apartments for all your needs. We believe in bringing life to houses with creativity and modernity. When you buy a 4BHK apartment or flat, you get to own 4 rooms with specialized designing of the master bed, a hall, study room (If), kitchen, attached bathrooms and balcony! Take a look at the flooring plan of our apartment. We promise value for your money and spacious houses.
Our flats have been beautifully designed. We have kept a close look at the safety measurements and infrastructure looking at the rising needs for safe and secured gated societies. New Generation has the team of best experts who help us design customer friendly and safe flats.
Key Features Of Maple Apartments
New Generation brings you Maple Apartments located in the heart of Tricity. Our flats are situated in Gazipur location of Zirakpur that has the most closeness to city dwellings. Our apartments and ready to move flats in Zirakpur have been appreciated by people. Have a look at the features of our flats and apartments:
In India, Vastu Shastra is regarded as auspicious. Investments made in positive energy bear sweet fruits. Thus, our apartments have been made according to Indian tradition of architecture or Vastu.
Earthquake resistance proof designing and building structure. We have used A0grade materials, fittings, and inputs. All the safety and security measurements have been followed while constructing.
You get adequate parking facility.
Direct sunlight and open space from the sides for better cross ventilation.
A stronghold of 8 passenger capacity of elevators in each tower.
Lush green and huge lawn with water features.
Exquisite designs of apartments along with study rooms, kitchen, and master bedroom.
Spacious balcony available with a scenic view.
Additional benefits like clubhouse, children playground, pool area etc.
Invest in Possession

Ready To Move Flats in Zirakpur

'The Future of Tommorrow
You might get a choice of investing in possession ready or under construction flats in Zirakpur. Many people are going for ready to move flats which is a good way of securing your money at the best. You get multiple benefits which makes it a good choice. Here take a look at the benefits of cashing in ready to move flats:
You do not have to pay GST when buying a ready to move flat which is possession ready.
Under construction flat buyers need to pay certain tax which is not in case of possession ready.
No risk factor as you are already aware about the surrounding, people and thier reviews.
Why Maple Apartments For Better Investment in

4 BHK Flats/Apartments in Zirakpur

?
New Generation brings Maple Apartments that will present to you a totally different universe of better facilities and interest plans. We are the best real estate builders in India to acquire your moderate property Zirakpur area. Maple Apartments bring you wide highlights. We are a famous venture in Tricity territory known for its engaging plans, evergreen styles, excellence and authentic arrangements. With 100% land proprietorship gave us the opportunity to give you more extensive space and incentive to cash. We need to give you a home that is a greater amount of your fantasy house. The upsides of buying Maple Apartment flats are as per the following:
The 4 bhk flats in Zirakpur price at Maple apartments are genuine.
3-tier safety measurements have been followed by us. Fire safety and waterproof measurements are followed by Maple Apartments. Products of Kryton Limited have been used like T1 and Baricote for quality and long-lasting solution.
Enjoy 9 acres adjoin MC park with beautiful greenery.
You will get clubhouse facilities and splash pool.
Designer tiles for hall area and quality finishing of wooden work in all the apartments.
There are more to the list! Contact us now and book your homes right now.
Contact Information
Address: Maple Apartments Zirakpur Old Ambala Road,
Near Fort Resort Gazipur,
MC Zirakpur, Dist. Mohali
Phone Number: +91 9023990990
Email ID:  info@ngmaple.com