Ready to Move Flat in Zirakpur – Are you looking for the best ready to move Apartments? We understand how difficult it is to find the right place to make it home. But now with New Generation Group's Maple Apartment, you can get the best and affordable ready to move Flat in Zirakpur. Maple Apartments are located in the prime location of the Zirakpur which makes us the popular choice for the apartment buyers. Our residential project is excellent for those who are looking for affordable yet luxurious flats to stay in the city.
Each and every property of Maple Apartment has been designed carefully keeping in mind about the superior ventilation and a spectacular view of the landscape. If you are looking for ready to move Flat in Zirakpur then you are at the right place. Maple Apartment provides the best ready to move apartments which have an excellent connectivity to medical facilities, shopping centers, schools etc.
Give us a call today at +91 9023990990 and get book your home with the maple apartment. Here you will get the best 2BHK, 3BHK, and more flats.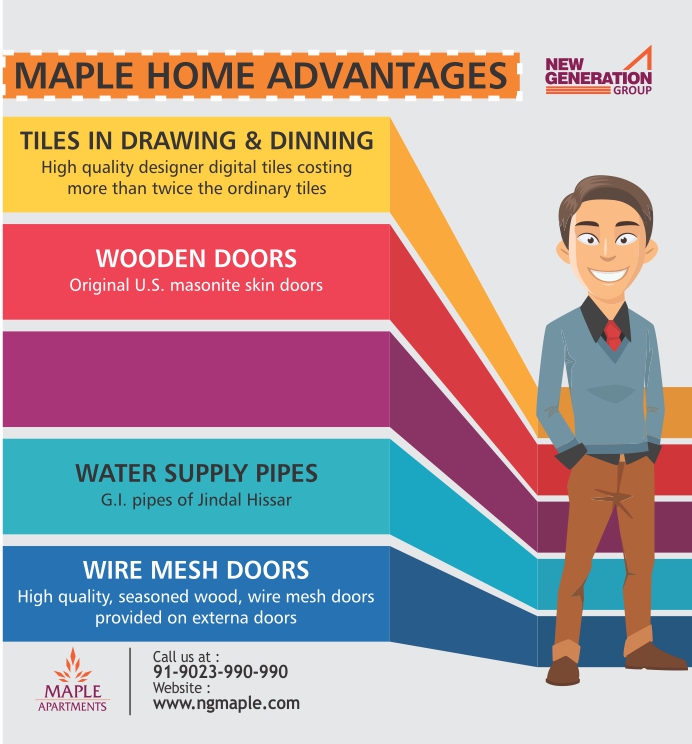 Ready to Move Flat in Zirakpur by Renowned Maple Apartment
We understand that you are looking for the best deal. To go for the right investment in property it is very important to make the right choice. Numbers of buyers are now preferring ready to move apartment in fast few years and it has kind of become trend to go for ready to move apartments rather than the under construction. Zirakpur housing property value is quite attractive for now and has been appreciation in recent few years with more people trying thier hand in buying property here.
Maple apartments provide the best ready to move flats in the cities like Zirakpur, Mohali, Panchkula, and Chandigarh, Being the part of New generation group, we make sure that our clients get the best deals. Maple Apartments ensure you the immediate availability of the apartments. We have the record for providing the best deals and living spaces to the number of people in past and this considered trustworthy by them. We have delivered many successful projects in past and always ensure that you get the best. We introduce Maple Apartments that has stylish designs, spacious rooms, and beauty that will attract you at genuine house rates.
Does Ready to Move Apartments worthy your Money?
Over the past few years, ready to move apartments have become the first preference for the number of people. Since 2008, the economy took to slow down which affected the real estate sector. This affected the under construction flat projects and thus, people have to wait long for the getting their home. Since that time ready to move apartments became the first preference for numbers of people. Benefits of investing in possession ready flats in Zirakpur:
You always get what you see. They are ready for possession and you have the whole knowledge about the place, its current development, and environment.
It may seem pricey but the return is favorable in coming years as it adds to the credibility.
They make a good option who want to resale after making slight yet attractive renovation which raises its price.
You do not need to pay unnecessary tax when investing in under-construction flats. Thus, it is a good deal for you.
No shocks when buying the flat as it is all infront of you.
Possession Ready Apartments 'Best Choice for Residential Property Purchase
Investments in planned projects are good but waiting for possession can take time. It takes a great deal of the time when the projects end and when the flats are ready to be used. Ready to move in flat avoid such delay. You actually get to take a look at the real sample for finalizing your dream house. Overall, ready to move apartments are affordable too. Apart from this, the ready to move apartment you get what you see which is not an option in under construction apartments. The recently implemented Goods and Services Tax levies a 12 percent tax on the purchase of under-construction properties. On the other hand Ready to move property, however, are left out of the ambit of GST.
Maple Apartments have made purchase easy and affordable. Our flats are possession ready and you will love the style and elegance of our flats. You do not have to pay GST to us and the properties are available. You will enjoy the dream house you always loved. Only after completion certificate, we are able to bring you safe and secured possession ready apartments. The main features of our gated society are:
No GST
Fine Styled and Spacious Living
Your Personal Balcony with Good Sunlight
Well Ventilated Rooms
Secured Transaction of Possession
What Makes Zirakpur the best Place to buy ready to Move Apartment?
Zirakpur is constantly growing city located near Chandigarh. Its location makes it the first choice for many buyers. The rising business opportunity and developing civic facilities have benefited the growth of real estate in Zirakpur. Since people from nearby town and cities are migrating to Zirakpur this is also the reason or busting real estate growth. The place has been attracting genuine investment in all ranges. One can find good luxury by investing here in this destination. The proximity to Tricity valuables and national highways makes it an ideal place.
The flats in Zirakpur are high on demand and them as this city has got the reputation of rapidly developing best infrastructure along with good transportation and communication faculties. Zirakpur being close to the Chandigarh and Panchkula and planned satellite township, this city has become the hotspot for many buyers without any doubt.
Benefits of Choose Maple Apartment's Ready to move Apartment in Zirakpur
Now finding the desirable apartment is not difficult, Maple Apartment will offer you the wide range of floor plans along with the best design, size and surrounding within your budget. We provide the wide range of apartment right from the one bedroom to the five bedrooms. Here given below are some of the benefits of Choosing Maple Apartments in Zirakpur:
Maple apartment is known for providing the best living spaces within the budget.
We provide the best range of ready to move apartments in the city
Our apartments are designed keeping in mind about the vastu and shastu.
Maple Apartments in Zirakpur are closely connected to the Chandigarh with fast assibilate.
Here you will get the beautiful green landscapes, fascinating water bodies, and manicured gardens
Maple Apartments provide you with the best range and wide options for Ready to move apartments. We will help you best in finding your dream house within your budget. Maple Apartments are the most preferred in Zirakpur due to their location, price, and facilities.
Contact Details
Address
: Maple Apartments Zirakpur Old Ambala Road, Near Fort Resort Gazipur, MC Zirakpur, Dist. Mohal
Phone No
: +91 9023990990
Email id
:  info@ngmaple.com