Residential Apartments in Zirakpur – If you are looking for affordable 3BHK/4BHK flats in Zirakpur VIP road then NG Maple is the best. New Generation' the best real estate builders in Chandigarh brings you Maple Apartments which is situated in the prime location of Zirakpur, Chandigarh. We have the best residential apartments in Zirakpur for sale at affordable rates.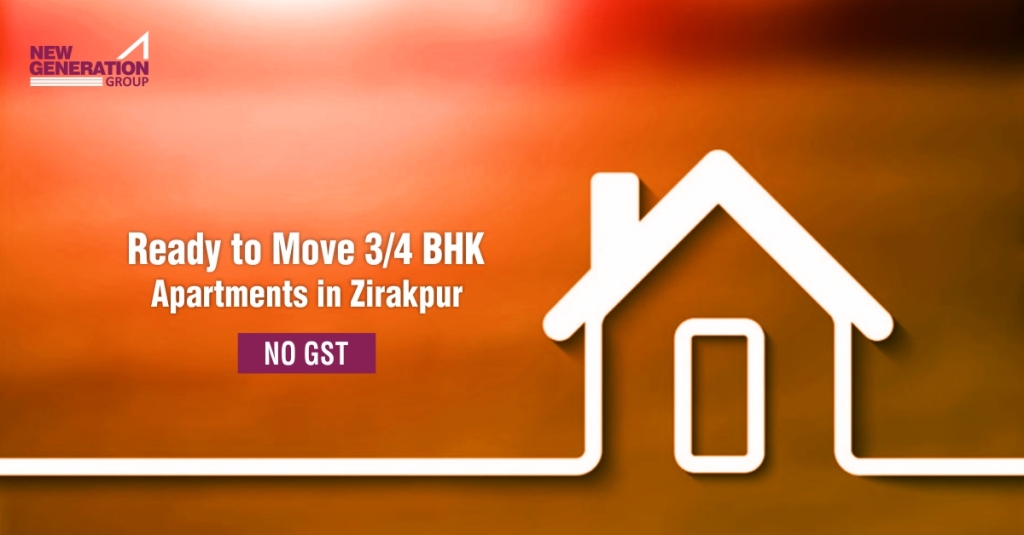 NG Maple Apartments brings you variety of choices when it comes to residential apartments in Zirakpur. We are offering 3BHK & 3+1BHK, Studio Apartments, 4BHK & 4+1BHK Ready to Move Apartments at most genuine rates. When it comes to peace, serenity and comfort Maple Homes makes the best choices. We have eight floors that cherish the same amount of luxury, delicacy and stylish designs. Our gated society brings you better facility, 3-tier security measurements, breathable space and scenic beauty.
Why Invest in Residential Real Estate Properties?
2018 is the best time to invest in real estate properties. Residential properties have come as a boon in form of asset for those who look for better cash flow and capital growth. The rising cost of lands makes investments in cheap flats in Zirakpur favorable for all. Take a look at the reasons to invest in residential real estate properties:
It is easy to find home loans. Banks are willing to provide credit when it comes to assets like residential properties rather commercial properties.
You get security as the risk involved is low if compared to share market.
The ROI and capital growth are rewarding in long-term as prices of lands tend to increase per annum making it an asset.
It meets all your needs for flexible investment. You can buy an old apartment and renovate to add value to it. Thus, residential properties give a greater degree of profit even if you rent out.
You have more control over its assets worth and cash flow which makes residential properties a long run boon.
One can readily invest in real estate ventures to have a good financial backup. On the other hand, it is a good idea investing in your own house.
How Ready To Move Is Better Than Under-Construction Residential Properties?
Residential properties can be found in many alternatives but when it comes to investment, you find ready to move or under construction projects. As the name goes, Ready to move are actually possession ready projects which are completed. On the other hand, under-construction are pre-booked and yet to be completed. We give you reasons why to invest in ready to move or possession ready apartments:
The biggest benefit for ready to move owners is that they do NOT have the pay 12% GST which means you will be paying capital gains tax even though you are living there.
You get what you see and you pay according to that. It is not possible in cases of under-construction as the project is yet to start or finish.
You get on-demand possession. Sign paper, do some legal work and then move in with your luggage.
The location where you buy is uncertain for development where usually under-construction properties are built for purchase. Buying a possession ready helps you save you through a trauma as you know the current development and privileges that get.
Best Location for Real Estate Investment around Chandigarh – Zirakpur
Zirakpur is one of the coveted places where you can buy your own house. It is the real estate hub that nests some of the biggest names of real estate world. The prices of residential flats in Zirakpur for rent or sale are genuine. The location is quite attractive when it comes to the benefits it provides to the buyer.
It neighbors close proximity to Chandigarh and Panchkula.
The prices of flats and apartments are genuine and you get to enjoy wide space.
It is nested in the heart of prosperity with amenities like restaurants, malls, shopping centers etc.
The prices are budget-friendly and with increasing value of houses here, one can make a great investment in a good asset.
You will be offered a better transportation facility as Zirakpur boosts 24×7 active transportation.
Maple Apartments' Top Residential Real Estate Company in Zirakpur
If you are searching for Studio apartments, 3BHK, 4BHK Ready to move flats in Zirakpur then Maple Apartments by New Generation is the best. The gated society welcomes multi-story community that offers genuine yet luxury apartments in Zirakpur. Our project has been a much-awaited delicacy after NG Duplex houses. It is located in a prime location and provides better benefits.
Digital designer tiles have been used in main hall area.
High-quality doors and windows have been installed that will provide you long-lasting home support.
Maple Apartments is built keeping in mind the prosperity of Vastu Shastra.
The 3-tier security system has been maintained by us.
The latest infrastructure and design of Maple apartment brings closer to better residential properties.
You will get to have an individual parking area and elevator system in each wing.
Lush Green Park with children play area having colorful swings.
Schooling and basic amenities are in close proximity without any problem.
Each wing can embrace its own clubhouse facilities along with benefits like splash pool etc.
NG maple is the best residential real estate builders in Chandigarh to bring you choices of 3, 3+1BHK, 4, 4+1BHK, Studio Apartments, Ready to move in flats etc.
Contact Details
Address: Maple Apartments, Zirakpur
Old Ambala Road, Near Fort Resort Gazipur,
MC Zirakpur, Dist. Mohali
Phone No: +91 903/43990990
Email Id:  info@ngmaple.com