Top Real Estate Company in Zirakpur, Chandigarh & Panchkula – New Generation Group brings you Maple Apartments that specializes in residential real estate and property. We have 3BHK, Ready To Move Flats, 4BHK in Zirakpur, Dhakoli, Gazipur etc that serve all your needs of your own dream house. Maple Homes brings alive all the beautiful designs, crucial amenities, 3-tier safety measurements and an all in one dream house turned into reality. Own your own dream house in a top location in Zirakpur & Chandigarh with breathtaking views.  NG Maple gives you good choices with a personal touch when it comes to residential properties.
NG Maple Apartments – 3BHK & 4 BHK Flats in Zirakpur
Maple Apartments is aimed at making houses that can turn into your dream house. The homes of Maple are inspired by the sharp designs of the Maple tree leaf. Just like the Maple leaf is well known for its structure and design by nature's grace, NG Maple Homes have been made with such sophistication.  Each floor of our building has been well constructed using the high-quality material. When you buy a house you will be cherished by warm people who are living in the surrounding environ. It is situated in a close proximity to Kalka Panchkula Shimla Highway (NH-22) near 200ft PR 7 airport road.
Enjoy designs that touch your heart and ambiance that will rejuvenate life1 NG Maple Apartments have fostered latest infrastructure, calamity resistance proof designs, safety measurements etc. CCTV cameras have been installed in every wing.  The possession will be on-time. We are the best real estate company in Chandigarh that offers ready to move in flats in Zirakpur as a part of NG Maple project. Good attention has been paid to all your comfort and care. We do not want to sell dreams but want to gift dream house that you can lure!
Types of Flat in Zirakpur offered by NG Maple
Our multi-story NG Maple Apartments has eight floors with 300+families living in the surrounding. Adjoining at the entrance of the society lays 7 acres MC park. The society has been made with a view to bringing comfort and luxurious feel. We have tried covered all the amenities that a good flat should have for its owners. The rates are kept reasonable.  You can have multiple options when it comes to flats at NG Maple.
3 BHK – 1816 sqft
Ready To Move Flats
3 BHK – 2116sqft
4BHK – 2060 sqft
Studio Apartments
4BHK – 2606 sqft
You get to own your own dream house in one of the topmost locations of the city. The close proximity to Chandigarh and Panchkula makes it one of the most desirable locations in the Chandigarh – Punjab- Haryana region. The construction of the upcoming airport ring road near the project makes it an ideal destination for investment too.
Layout Of Our Maple Apartment 3BHK Flats in Zirakpur Location 
We have tried to meet all your demands for a 3BHK flat. The rooms are spacious and can accommodate your wide needs in just affordable plans. We want our customers to get the best residential market that you will enjoy. We have made available for you 1816sqft and 2116sqft apartments of 3BHK available for you. All the requirements are met where you look for affordability and space. The gated society provides a vast space where you can feel like your home. Here is the sample layout of the 3BHK apartment of our Maple homes project: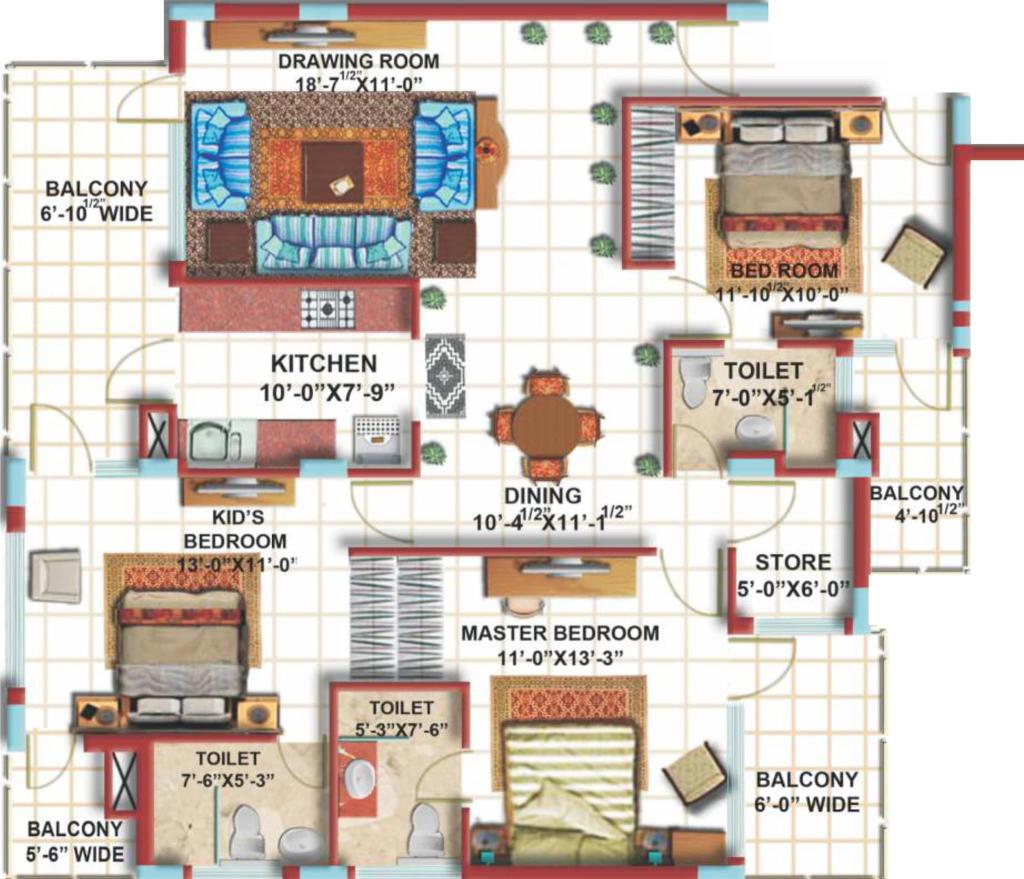 Layout Of Our 4BHK Flats in Zirakpur, Chandigarh
We understand you need to great style and space when it comes to 4BHK flats. The rooms have been divided according to with good amenities to match your style, desire, and affordability. We have made sure that good spacing and better facilities are being provided by us to you. It is not just the house you are buying, we want to offering great feeling when buying these apartments. Look at the sample layout of our 3BHK flat:
Advantages of Choosing Our Real Estate Agents & Property Dealer in Zirakpur, Chandigarh, Mohali & Panchkula
NG Maple welcomes affordable investment for residential properties. New Generation has already delivered multiple projects that were successfully like NG Duplex houses and NG Duplex. We are amongst the top real estate companies in India to bring you a world of elegance and sophistication. Here take a look at the advantages of choosing us:
Best location in Zirakpur with close distance to Panchkula, Chandigarh, and Mohali especially NH 22.
A vast variety of Flats/Apartments available like Ready To Move Flats, 4BHK, 3BHK flats in Zirakpur.
On-time possession of apartments in Zirakpur.
Design of the building is made according to Vastu Shastra.
3-tier security measurements have been followed for safety purposes.
Specious floors, parking lot, children play area and green parks at Maple Apartments.
Original US Masonite skin wooden doors and digital designer tiles for rich look.
Now we bring you Maple Apartments that strive to bring you a whole new experience. Like the sharp Maple tree leaves, our project NG Maple promises you to deliver intrigue designs. Our 3/4BHK apartments in Zirakpur have been a byword for quality and style. To bring you modern yet affordable flats in Zirakpur, Maple Apartments is the choice of many. You can contact us anytime to get more details.